Avedon & Colby Outfitters has announced their new Linen Signature Field Shirt, based on their original Bush Poplin Signature Field Shirt, this version is sewn from 100% linen fabric designed for comfort and function while bonefishing.
Read more in the press release below.
Avedon & Colby Introduce the Ultimate Linen Bonefishing Shirt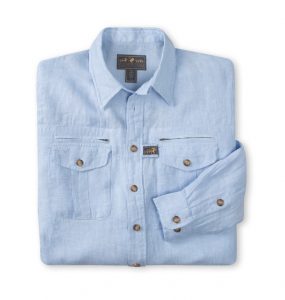 (Black Earth, WI) Avedon & Colby Outfitters' new Linen Signature Field Shirt just might be the most comfortable and functional bonefishing shirt ever devised. Based on the original, award-winning Bush Poplin Signature Field Shirt, their latest version is sewn from 100% linen fabric in two fishy colors — khaki and light blue chambray.
Linen has been regarded as the preferred fabric for tropic climates since the days of the Egyptian pharaohs. Made from the fibers of flax plants, it's expensive and difficult to manufacture, but the result is a strong, abrasion-resistant, long-staple fabric that is cool to the touch, ultra-absorptive, and incredibly smooth and comfortable to wear. Unlike cotton or synthetic fabrics, linen has the ability to absorb moisture without feeling clammy next to the skin — and rapidly "lose" it through evaporation, while cooling the wearer. When the weather turns cool, or when running out to the flats at daybreak, the fabric retains body heat far better than cotton or synthetics, too.
The Linen Signature Field Shirt is also loaded with innovative performance, comfort and convenience features not found on other hot-weather fishing shirts:
Retractable Bi-Swing Back: A generous, full-length bi-swing back extends from the top of each shoulder to the waist and expands to prevent pulling on the sleeves when arms are thrust forward when casting or fighting fish. A unique, elasticized mesh panel inside the shirt reseats the bi-swing pleats to their original position to prevent ballooning and maintain a trim, snag-free profile.
Moisture-Wicking Mesh: The elasticized 100% polyester mesh half lining on inside of the shirt back wicks sweat away from the wearer's skin and out to the linen shirt material to accelerate evaporation and cooling.
Double-Reversed Underarm Gusset: A revolutionary new underarm gusset design allows for complete freedom of arm movement by preventing any pulling on the shirt's sleeves when arms are raised or rotated when fly casting or fighting fish.
Side Panels: Tailored side panels replace traditional side seams (which are cheaper to sew) to separate the front and rear shirt panels and prevent transfer of torque so the shirt body does not twist or pull when casting, stripping line or releasing fish.
Pivot Sleeve: Each sleeve seam follows the arm-motion pivot points to reduce cuff "pull-back" and waist "pull-out" while allowing arms to move freely.
Articulated Elbows: A sequence of small pleats at the elbows help prevent the shirt cuffs from pulling back and binding when fly casting.
Sleeve Roll Tabs: Extra-long concealed sleeve roll tab loops, exterior buttons and a full 7″ sleeve placket accommodate rolling up sleeves without binding.
Sun Collar: A flip-up collar extension helps prevent sunburn on the back of the neck. Constructed with a military-style "zig-zag" stitch to keep it rigid without adding additional thickness or weight, the sun collar stays up without curling or folding back on itself.
Genuine Bellows Pockets: Generous, functional (not decorative) box pleats on each breast pocket allow for expanded capacity.
Zippered Security Pockets: Concealed, corrosion-resistant, solid-brass zippers secure two hidden pockets behind each breast pocket for safekeeping a passport, cash, wallet or other valuables. Cloth panels sewn on the inside of the shirt support the zippers to prevent sagging.
Hidden Button-Down Collar: Hidden buttons secure the shirt's collar tips to prevent them from flapping against the wearer's face and neck in high winds or when running at high speeds.
Dress Shirt Construction: All seams are single-needle stitched and surged to prevent any fraying of material.
Horn & Urea Buttons: Stronger and much more durable than traditional plastic buttons, the Signature Field Shirt buttons are molded from ground horn powder and urea-methanol resin with raised button rims protect the thread from abrasion.
Available in Men's Medium to XXLarge — and Large and Extra Large in Tall — in khaki and light blue chambray and retailing for $198, the new Signature Linen Field Shirt can be ordered on the Avedon & Colby website: www.avedoncolby.com.
About Avedon & Colby Outfitters
Burt Avedon: After a distinguished career as a Navy fighter pilot serving in combat during both World War II and Korea – and later as a Top Gun instructor and a bush pilot/professional hunter in British East Africa, Burt purchased the original Willis & Geiger in 1978 after it went bankrupt following the collapse of Abercrombie & Fitch, the company's largest customer. He successfully revived the company by re-introducing improved and entirely new versions of many of the iconic Willis & Geiger styles that outfitted adventurers and explorers like Teddy Roosevelt, Ernest Hemingway, Charles Lindbergh, Amelia Earhart, and many others. Willis & Geiger was purchased by Land's End in 1996 and closed during a company-wide downsizing in 1999.
After several unsuccessful attempts to purchase the iconic brand from Land's End, Burt, and his longtime design partner Susan Colby, launched their design and consulting firm, Avedon & Colby, to create premium performance wear and accessories for leading outdoor and lifestyle brands.
Susan Colby: Susan joined Burt at Willis & Geiger in 1986 with an art degree from Smith College following a successful career as a member of Westinghouse's Design Center, Associated Merchandising Corporation, and finally as a designer and buyer at Paul Stuart/NYC. Together, Burt and Susan designed garments and accessories for Willis & Geiger that blended the classic good taste of a bygone era of wilderness exploration with high-performance features never before seen by outdoor enthusiasts. They continued this tradition after the close of Willis & Geiger, designing premium-performance clothing and accessories for leading outdoor and lifestyle brands like Orvis, Beretta, Woolrich, King Ranch, Kevin's and Eddie Bauer.
More info: www.avedoncolby.com